SUNSET BLVD. (SUNSET BOULEVARD / 2CD) (CD)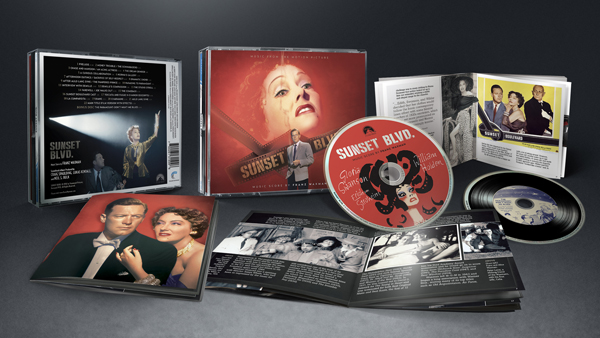 Franz Waxman's 1950 Academy Award-winning masterpiece finally comes to CD! This first-ever studio-authorized release incorporates all of the surviving elements in the Paramount Pictures music archive (approximately two-thirds of the complete score) along with the original "Prelude" and "Conversing Corpses," a cue for a brilliantly scored deleted scene. Because of their major importance to the film's story, the bonus section also includes all of the surviving source cues—even though some of these tracks have suffered from their years of storage. A final treat is the Jay Livingston–Ray Evans song "Paramount Don't-Want-Me Blues" (not used in the finished film), newly recorded especially for this release by Los Angeles vocalist Whitney Claire Kaufman and pianist Nelson Kole.
This double cd contains two 28 and 40 page lavish booklets with scenes on and off camera and many never before photos of Franz Waxman contributed by his son John Waxman. Extensive liner notes by Ryan Brennan and Curt Hardaway. Package design by Jim Titus.
1. PRELUDE 8:18
2. MONEY TROUBLE / THE SCHWABADERO 1:11
3. CHASE AND MANSION / AN AGING ACTRESS 3:54
4. THE ORGAN GRINDER :40
5. A CURIOUS COLLABORATION :38
6. NORMA'S GALLERY 1:19
7. AFTERNOON OUTINGS / SACRIFICE OF SELF-RESPECT 4:47
8. DRAMATIC CHORD 1:04
9. AFTER AULD LANG SYNE / THE PAMPERED PRINCE :49
10. PARADING TO PARAMOUNT :54
11. INTERVIEW WITH DEMILLE 1:49
12. DEMILLE'S COMPASSION :38
13. THE STUDIO STROLL :25
14. FAREWELL / JOE WALKS OUT 6:41
15. THE COMEBACK 4:19
16. SUNSET BOULEVARD CAST :25
Source Cues:
17. TOCCATA AND FUGUE IN D MINOR (EXCERPTS) 3:36
18. LA CUMPARSITA 3:32
19. DIANE 2:51
20. CHARMAINE 2:20
21. AULD LANG SYNE 1:01
22. MAIN TITLE (FILM VERSION WITH EFFECTS) 1:28
Total disc time: 52:40
Bonus Disc:
1. THE PARAMOUNT-DON'T-WANT-ME BLUES 2:24 (Newly recorded by vocalist Whitney Claire Kaufman and pianist Nelson Kole.)