Spectacular original soundtrack to the 1942 swashbuckler "The Black Swan."
This sound track CD of Alfred Newman's Academy Award nominated score to "The Black Swan" has been produced using mono preservation copies of the original nitrate optical scoring sessions. Includes 24 page deluxe color booklet.
1. Main Title 1:37
2. Foreword :24
3. Over The Wall Into Battle/Small Haul But An Easy One/Captured/Inquisition 8:08
4. Locking Away Lord Denby 3:22
5. Jamie Duels With Leech/Captain Morgan Intervenes 3:43
6. Port Royal 3:10
7. Sir Henry Morgan,Governor Of Jamaica :10
8. Ducking The Ceremony 2:52
9. Lady Margaret's Pillow 7:16
10. Ingram Conspires With Leech 1:47
11. Ingram Warns Fenner And Leech :43
12. Tortuga 2:20
13. Jamie Kidnaps Lady Margaret 10:53
14. Articles Of Agreement :28
15. Jamie's "Bride" 6:03
16. Maracaibo :13
17. Morning In The Honeymoon Cabin/Attack On Maracaibo/Finale 15:08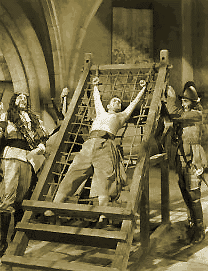 Perhaps unintentionally, the 1942 Technicolor swashbuckler "The Black Swan" is a bondage fetishist's dream, with hero and heroine Tyrone Power and Maureen O'Hara taking turns being tied up and imprisoned throughout the film's brisk 85-minute running time. Very loosely adapted by Ben Hecht and Seton I. Miller from a novel by Rafael Sabatini, the film casts Power as rogueish, hot-tempered buccaneer Jamie Waring, who considers the day wasted when he hasn't sacked a Spanish galleon or plundered a rich coastal town. Jamie's partner in crime is pirate king Henry Morgan (Laird Cregar), an alliance that comes to an end when Morgan is appointed governor of Jamaica. Disgusted by this defection, Jamie considers joining the scurrilous Redbeard (George Sanders), but eventually decides to reform his ways when he falls in love with Margaret Denby (Maureen O'Hara), the gorgeous daughter of the former Jamaican governor Lord Denby (George Zucco). Before the final obligatory sail into the sunset, however, Margaret is kidnapped and manhandled on a seemingly hourly basis, while Jamie is subjected to even more abuse at the hands of pirates and officials alike. Henry King handles the derring-do in "Black Swan" with commendable sobriety, leaving the story's tongue-in-cheek elements in the capable hands of the cast and the screenwriters.